HOW TO GROW CROPS
STEP 1: CLEARING THE LAND
First, pick up branches and stones, and get rid of trees and boulders that prevent you from clearing a patch of ground for planting. You'll use hammers to break boulders, and axes to chop down trees and remove their stumps.
Trees you cut down and boulders you break will turn into materials you can collect, so be sure to pick up the remains after you've cleared your land. New trees and boulders will appear in the unused land on your farm after enough time has gone by, or after a typhoon or blizzard passes through.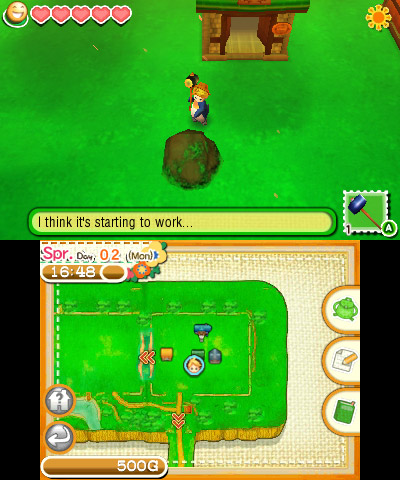 STEP 2: TILLING YOUR FARM
After you've cleared your land, use a hoe to till the field and prepare it for planting. Each patch you till contains nine spaces.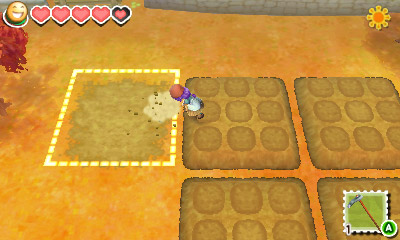 STEP 3: PLANTING SEEDS
Spread seeds in the field you've tilled. Sowing seeds covers all nine spaces of a single patch of ground at once. If you want to remove the seeds you've planted, use your hoe.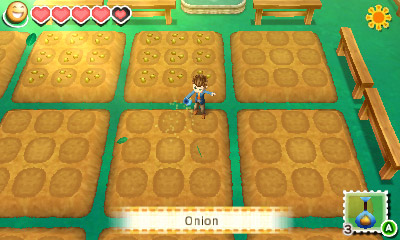 STEP 4: WATERING CROPS
Fill up your watering can and water your crops. You need to water your crops at least once a day every day. If you water them twice, your crops will grow faster.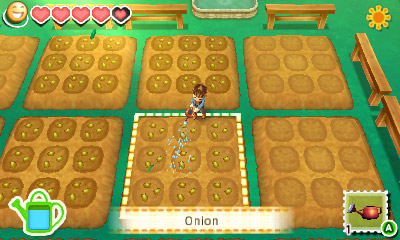 STEP 5: HARVESTING
When your crops are fully grown, press [[A]] to harvest them (some crops require a sickle to harvest). Crops you have harvested will be put into a box automatically. Don't forget to press [[A]] again to add the contents of the box to your bag.
Be careful not to let your crops dry out. If you forget to water them for just a day, your crops will begin to wilt. If you neglect to water them for several days after that, they'll fully wither and die. Also, keep in mind that some crops can only grow during a particular season and will die if you try to grow them out of season, no matter how attentively you take care of them.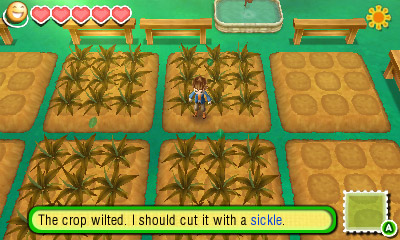 SPECIALTY FARMING
You can perform unique feats of farming not possible in your standard fields. Try building special items at your trusty craft table or leasing special fields from the town guild.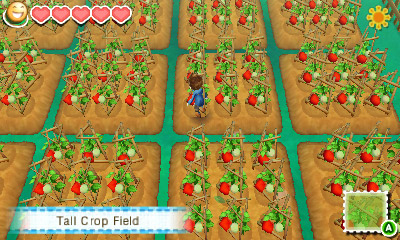 GREENHOUSES
In a greenhouse, you can grow any crops at any time of year by setting the light level to mimic one of the four seasons. You can change the light level by buying "suns" that you place in the greenhouse, with one sun representing each season. You'll be able to use these suns after you buy them from traders.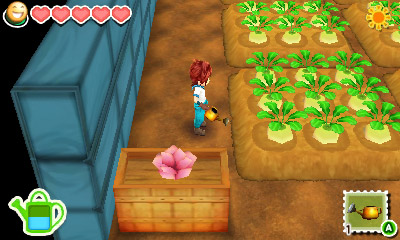 PADDIES
If you gain the rights to use one of the guild's paddies, you'll be able to grow rice, wasabi, and lotus roots there. Use a hoe to till the fields and plant seeds to grow them.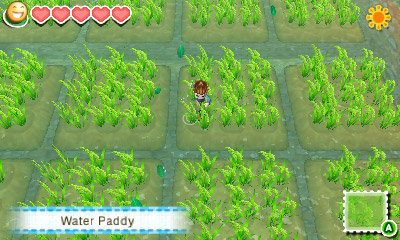 FRESH VEGETABLES
Vegetables, fruits, spices, tea leaves, and grains will remain fresh for several days after you harvest them. Fresh crops ship for a higher price, and result in better-quality food when you use them as ingredients in cooking.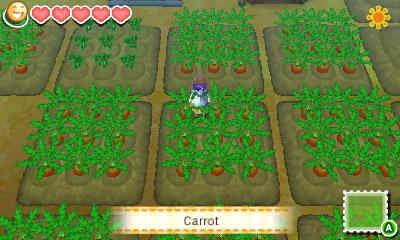 USING FERTILIZER
You can purchase fertilizer from the General Store. Spreading fertilizer will improve the quality of your crops, but you can only use it once a day per patch of farmland.